PRAISE POSEIDON, WINTER IS OVER!

1. SPRING FISH (HALLELUJAH)! The halibut bite is red-hot, the night smelt have returned to our local beaches, and the salmon opener is just around the corner.
As a fisherman and fishmonger, I'm deeply happy to say that winter is behind us. Join me on a tour, enjoy fresh local seafood in my CSF, or if you're looking to get on a charter boat, check out my friend Adam on F/V Gatherer (pictured below). Mention Kirk the Sea Forager and get a discount on your next excursion!

2. EVENTS!  Join the Fishwives family road trip up to Gualala where I'll be doing a book talk and sea song sing-along at the Surf Market on Saturday, May 5th at 12pm.
And I'll be providing the seafood and music for a special "Mindful Supper" with local producers at Scoma's in San Francisco, May 15th. Details & tickets HERE.


3. COASTAL FORAGING TOURS: Still a couple spots left on my Mega Low Tide Tour in Half Moon Bay on May 10th and 21st (Sea Forager Seafood CSF members get 50% off tour tickets!) Gift certificates available.

3. KNOW YOUR FISHERMAN: 
If you're still looking for a delicious, ethical seafood source, check out my sustainable seafood CSF with locations all around the SF Bay Area pickup locations, and drop me a line if you'd like to host (and enjoy free fish.) Never dragged, we support hook and line fishermen and the fisheries that we love so much. You get a better product, they get a better price, and the fisheries are treated with respect. Thanks for your support (and please tell your friends)! 

Until next time, fish on!

Kirk-out  

Greetings coastal foragers and fisher-folk!
Book talk and sea song singalong with The Fishwives sea shanty quartet on May 4th in Gualala. DETAILS.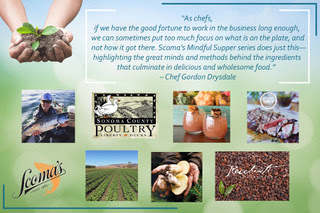 Mindful Suppoer at Scoma's on May 15th TICKETS